Notice
: Use of undefined constant linklove - assumed 'linklove' in
/home/content/p3pnexwpnas07_data03/12/2796512/html/wp-content/plugins/facebook-comments-plugin/class-frontend.php
on line
99
It seems no matter how hard I try, I can't not care. I don't want to care. I say I'm not gonna care. Then I find myself caring, and that's no way to live. Do you know how much easier life would be if I didn't care? It would be fantastic. So I'm working on it. Although not caring isn't as easy as it looks. To help I've started taking notes, and Nobody You Know is definitely onto something.
I know the words to every Pearl Jam song because I just make them up. — Nobody You Know (@SleazySli) June 15, 2014
I wish I could be that carefree because… 
Being alone with your thoughts is a fun way to kill yourself slowly. — D (@CallMeDraper) August 19, 2014
Especially if, like everyone else across the internets, you're contemplating Kim K's ginormous, greasy badonkadonk. And how could you not? Where ever you turn, BAM there it is. In your face. Literally. Popping up before your eyes, and you can't get away. It's like her butt is chasing me.
Maybe Kimmie didn't break the internet with her butt, which by all means would be a laudable achievement far surpassing everything else she's done to date, but at this point I kinda wish she did. Then I wouldn't have to see her generous, bubble butt anymore. Because I think I should have the right to choose who's bare, naked, shiny arse I see. I don't think we should have to live with butts foist upon us. And while I really don't care to see anyone's naked arse, I care least of all to see Kim's given her recent accolade and prominent position representing my half of the human race.
Kim Kardashian won GQ's Woman of the Year Award. Coming in second place: Any Hope for the Future — Eliza Bayne (@ElizaBayne) September 3, 2014
I was barely holding on as it was.
My ice-cold heart can't take all the sadness. Think I'll go back to avoiding the news and "liking" before-and-after make-over pics on FB. — Linda in Disguise (@LindaInDisguise) August 12, 2014
It's the only way because my current method isn't working.
I started using no more tears shampoo when I'm sad. It hasn't worked yet but my hair smells amazing — I Too Have A Beard (@str8upjuggahos) August 9, 2013
The thing is I have the answer. I know what would solve everything. A dolphin. 
If I owned a dolphin, I would tell everybody to fuck off every day. When you own a dolphin, you can do that. — Chez McCorvey (@CelebrityChez) May 9, 2014
If my husband cared anything at all about me, he would get me a dolphin. But he doesn't. I have no dolphin, which is why…
I'm trying hard not to care, but I gotta try harder. — OneFunnyMotha (@OneFunnyMotha) August 20, 2014
And that statement goes perfectly with my newly minted product line. That's right. Later this week I'll be unveiling all my (five) products so that you, too, may wear OneFunnyMothaisms proudly on your person or gaze at them lovingly over the breakfast table. Here's a sneak peak.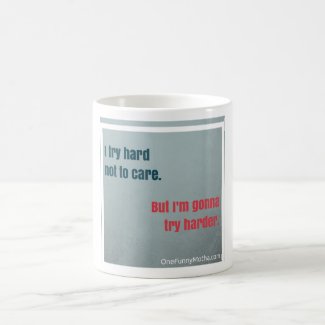 Don't Care Mug
by
OneFunnyMotha
Look at Humorous Mugs online at
Zazzle.com
Stay tuned (on Thursday) for the big reveal. It's coming just in time for the holidays, too, so get your list ready. There's tons (five) of fabulous finds in my shop.
Comments
comments
Powered by Facebook Comments